Viscera of the hen showing ovarian surface studded with ova. Fully formed egg with shell is located in the excised uterus.
Vísceras de gallina ponedora mostrando la superficie del ovario llena con óvulos. Huevo totalmente formado con cáscara ubicado en el útero abierto.
Terms of use of this work / Send your work
Image 1.

Developing follicles (Oocytes or Ova)
LIVER
PANCREAS
GIZZARD (Surrounded with fat)
SPLEEN
INTESTINE
UTERUS (Shell gland)
DUODENUM
STIGMA
CECA
Image 2.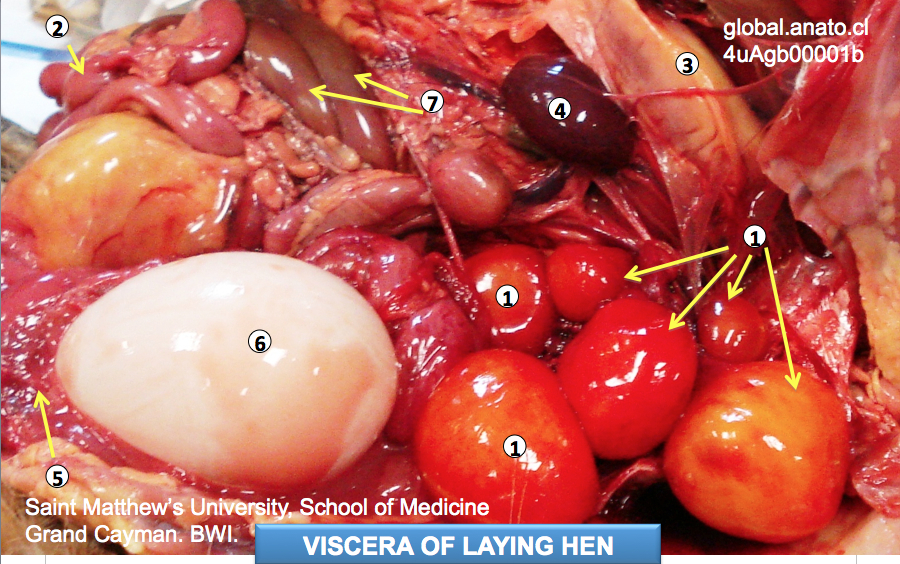 Developing follicles (Oocyte or Ova)
DUODENUM
GIZZARD (Surrounded with fat)
SPLEEN
UTERUS (Egg shell gland)
FORMED EGG (Excised uterine wall showing fully developed egg)
CECA
CODE: 4uAgb00001
Authors:
| | |
| --- | --- |
| | |
| | |
| | Stephanie Ranger |
Institution: Saint Matthew's University, School of Medicine. Grand Cayman. BWI
Year: 2012
This article was evaluated by
Dr. Wael A. Khamas (Iraq)
College of Veterinary Medicine
Western University of Health Sciences. CA. USA