PowerPoints.
Para ver texto en Español vea abajo
Steps for author(s) to follow to send a PowerPoint
(

steps 1 to 3

)

.
STEP 1:Make the labeling of the pictures, and if you want add additional animation or explanation about the structures.
STEP 2: The nomenclature can be in English, Spanish or using  the international terminology in Latin. See the Human Terminology , Nomina Anatomica Veterinaria, Nomina Avium.
In the first slide put the following information: Please see the example.
global.anato.cl (Right superior corner)
Title: (Center)

Author(s):
Institution:
Year:
Language:
STEP 3: Send to globalanato@gmail.com
Steps to follow by global.anato.cl (

steps 1 to 4

)
STEP 1: Verify reception, CODE assignation and notification to the author(s). See CODE assignation system
STEP 2: Provide evaluation by an external evaluator. See our Scientific committee
STEP 3: Notify of acceptance/ acceptance with modifications/ or rejection.
STEP 4: Confirm publication and notification to the author.  We will download your powerpoint as a video into youtube.com, that will allow the quick review of your presentation.  We'll add the music that you choose from youtube.com, if you don't have preferences we'll choose the best for your work.
See an example of PowerPoint.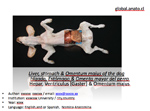 Steps to send
————————————————————————————
Pasos a seguir por el(los) AUTOR(es)  para envío de PowerPoint.
(
pasos 1 a 3

)

PASO 1: Agregar las flechas y nombres correspondientes a las estructuras. Se sugiere agregar animaciones o explicaciones relacionadas con el tema.

PASO 2: La nomenclatura usada puede ser en Inglés, Español o según la Nómina o Terminología Anatómica Internacional en Latín. Consulta Terminología Anatómica Humana, Nómina Anatómica Veterinaria , Nomina Avium.
En la primera diapositiva  debe agregar la siguiente información

global.anato.cl (esquina superior derecha)
Titulo: (Centrado)
Author(s):
Institution:
Year:
Language:

PASO 3: Enviar a globalanato@gmail.com los siguientes archivos:
Pasos a seguir por global.anato.cl (pasos 1 a 4)
PASO 1: Recepción y asignación del CODE del trabajo  y notificación del recibo al(los) autor(res) de los archivos (pps o pdf & word). Ver sistema de asignación de CODE.
PASO 2: Evaluación del trabajo. Conoce nuestro Scientific committee
PASO 3: Aprobación con o sin modificaciones y notificación de fecha probable de posteo, o rechazo del trabajo. Ver motivos de rechazo de un trabajo
PASO 4: Posteo del trabajo en global.anato.cl y notificación al(los) autor(es). Subiremos su presentación a youtube.com, esto permitirá la rápida revisión de su trabajo en global.anato.cl. Agregaremos la musica disponible en youtube.com que Ud. estime, si no tiene preferencias agregaremos la mejor que estimemos conveniente.
Ver ejemplo de PowerPoint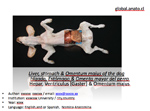 Pasos para envío